By Edouard Aldahdah
Posted on July 14th, 2008 in Lebanon, USA
The series of articles on the Ma'naghi Hadraji strain – the fourth in the "train of the Week" feature – is not over yet. There is at least one more post I want to write. Yet I feel the urge to talk about something else for a change, so I thought I'd introduce you to the strain of Kuhaylan al-Dunays.
Kuhaylan al-Dunays or Kuhaylan Dunaysan is now extinct in Asil Arabians in tail female, and this has been the case for about 30 years. In the late nineteenth century, the strain belonged to the Sba'ah Bedouin tribe, and stallions from that strain could be bred from [shubuw]. I don't know where the Sba'ah got the strain from, and I don't know who owned it within Sba'ah. All things for future research.
Perhaps the most famous representative of this strain was the stallion Padishah, a chestnut Kuhaylan Dunaysan from the marbat owned by the al-Mi'rabi landlords of the northern Lebanon plain of Akkar. The al-Mir'abi were not Bedouins, but landowners of Kurdish descent,  yet their stud was held in high esteem by Bedouins and townsfolk alike. The Dunaysan marbat was known as the marbat of "Dunaysat of 'Uyun al-Ghizlan", in reference to the village of same name in the Northern Lebanese plain of 'Akkar where the Mir'abi used to keep their Arabian horses. My father used to own a Dunaysah mare from this marbat, but she was not Asil..
Padishah was owned by Henri Pharaon, and raced in Beirut in the early 1930s. He then was used as a breeding stallion, and sired many important Asil Arabians that left their mark on Lebanese Asil horse breeding. Among his get was the stallion Sergent Major, a Hadban, who sired the Asil mare *Lebnaniah, a Ma'anaghiyah imported by W.R. Hearst to the USA. 
I need to make a pitch to include *Lebnaniah, the paternal granddaughter of Padishah, in the Al Khamsa roster. I think she has two or three aging Al Khamsa-eligible descendents. It would be a shame to lose that good Dunaysan blood..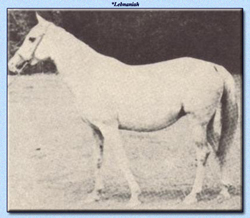 The photo of *Lebnaniah above is from the website of Suzi Morris of Areana Arabiansand is courtesy of  Nyla Eshelman.