By Edouard Aldahdah
Posted on April 19th, 2008 in Arabia, Syria
I found a picture of a Kubaylat Ibn Jlaidan to show you, as well as a writtten certificate of origin (hujjah, plural hujaj).
The picture, taken in the mid 198os, does not do justice to the mare, and I hesitated a bit before posting it: it shows a chestnut desert-bred mare in rather poor condition, against a background of miserable mudhouses. These were built in the second half of the twentieth century by impoverished Shammar Bedouins who had finally abandoned their black tents and camel herds, and settled in a relatively barren area of North Eastern Syria (known as the Upper Jazireh), not far from the Iraqi and Turkish borders.  Many Shammar clans paid a heavy price for clinging to their nomadic lifestyle till the very end: the more fertile lands had already been grabbed by earlier settlers. The picture also shows the concrete houses which Bedouins started building as of the 1980s, to replace the older mudhouses. Barely an improvement.   
The mare herself is well built, with a deep girth, high withers, a round hindquarter, a well-sloped shoulder, a nicely set tail, and a pretty head. Her neck is thick though, a defect typical of many of the desert-horses of the twentieth century. The man holding her is a member of the al-Jlaidan clan, either 'Ubayd (the author of the mare's hujjah, below) or his brother 'Abdallah (the subject of the ealier post on this strain).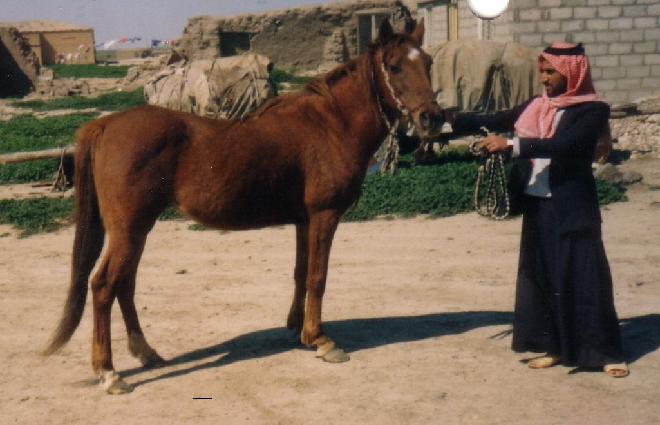 Below is a quick translation of the hujjah of this Kuhaylat Ibn Jlaidan:
"I, the undersigned, 'Ubayd (son of) Hammad al-Jlaidan from the tribe of Shammar, testify by God Most High, a testimony free of any self-interest, that the chestnut mare with a star on her forehead, and two stockings on her hind legs, twelve years old on this date, is a Kuhaylat al-'Ajuz from our horses.
Her sire is a Ma'naghi Hadraji, the black horse of Dahir al-'Ufaytan. The sire of her sire is a Hamdani Ibn Ghurab. The sire of her dam is a Kuhaylan al-'Ajuz from the same marbat (as the mare): Ibn Jlaidan. And God bears witness to what we say.
Witness: 'Ubayd (son of) Hammad al-Jlaidan [signature]
Witness: 'Abdallah (son of) Hammad al-Jlaidan [signature]
Witness: Adham Khalifah al-Bahr [fingerprint]"
[End of Translation]
What is special about this hujjah is that its author (and hence the owner of the mare) is also the owner of the marbat: you can't beat that. Just imagine, in this day and age, Ibn Rodan signing the certificate of a Kuhaylah Rodaniyah…