By Edouard Aldahdah
Posted on March 5th, 2008 in France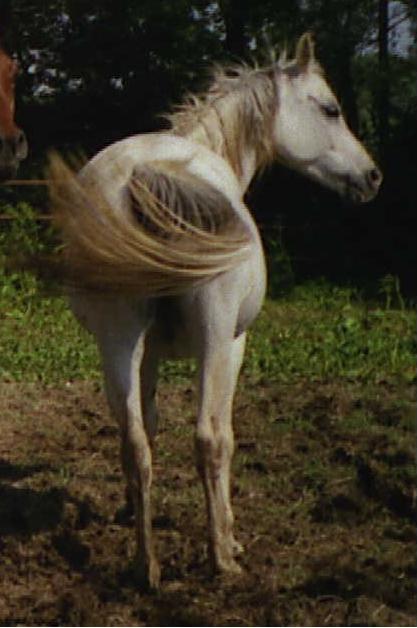 Why am I starting this "Strain of the Week" series with this particular strain?   Shameless promotion.  Kuhaylan Hayfi just happens to be the strain of my Asil Arabian mare, Wisteria CF, which also gives me an excuse to display her picture.
There are other reasons, too: many Asil Arabian horsebreeders are familiar with the strain, as a result of the importation of the desert-bred Kuhaylah Hayfiyah mare *Reshan to the USA by Homer Davenport in 1906.  *Reshan went on to become one of the foundation mares of Arabian horse breeding in America, and left hundreds of Asil descendants in this country, most of which belong to the Davenport group, like Wisteria CF.  (For those of you who have been living on the moon for the past half-century, the term "Davenport" refers to those Asil Arabians descended exclusively from the desert-bred Asil Arabian horses imported to the USA by Homer Davenport in 1906, and from a few others desert-breds he'd owned prior to this importation).
Back to the strain itself, of which *Reshan is only the most famous desert-bred representative. First, how old is it?
Youthful as strains go, Kuhaylan Hayfi 'only' goes back to the second half of the nineteenth century: the Abbas Pasha Manuscript, which collects Bedouin testimonies about Arabians horses up to ca. 1850, makes no mention of it.  This implies that Kuhaylan Hayfi may not have developed yet as a distinctive strain, because it is unlikely that such an important strain would simply be overlooked by a horse collector like Abbas Pasha, or by the Bedouins for that matter, so as not to deserve even a passing mention in the book. 
At the same time, French importation records show that a desert-bred mare that was imported to France in 1892 at age 5 was sired by a stallion the French called "El Lehefi".  This is clearly a deformation of "al-Haifi", which gives out the strain of the sire, and informs us by the same token that the strain was already in existence by the early 1880s.  
Bottom line: the strain Kuhaylan Hayfi got its name at some point during a thirty year window between ca. 1850 and ca. 1880.  If anyone of you has additional information that could lead to narrowing this window even further, please bring the evidence forward (e.g., is it mentioned in the list of strains given by Lady Anne Blunt in "Bedouin Tribes of the Euphrates" (pub. 1879)?