By Edouard Aldahdah
Posted on December 13th, 2014 in General
I mentioned earlier that Shahwan of Dahman Shahwan fame was an historical character. I am now happy to report that I found a solid, dated historical reference to this Shahwan in a book by Mamluk-era chronicler Abu al-Mahasin Taj al-Din Abd al-Baqi ibn Abd al-Majid al-Yamani (born in Mecca in 1281 AD — died in Damascus in 1343 AD). The book is called "Bajhat al-Zaman fi Tarikh al-Yaman", in short, "History of Yemen". It is a chronicle of historical events in Yemen before and during the time of the author, who appears to have lived at the same time as Shahwan.
The mention of Shahwan of 'Abidah (of Qahtan) occurs in page 95 of the book, under the events of the year 678 Hijri (1279 AD), under the title of "Account of Muzaffar's takeover of Dhofar, Hadramaut and the city of Shibam".
This Muzaffar is King al-Muzaffar Abu al-Mansur Shams al-Din Yusuf, second king of the
Rasulid dynasty of Yemen
. Muzaffar ruled Yemen and its dependencies from 1249 to 1295 AD. The account is as follows (my translation from Arabic):
"Account of Muzaffar's takeover of Dhofar, Hadramaut and the city of Shibam: the cause for this was that the warships of Salem son of Idris al-Habudhi raided the port of Aden, and al-Muzaffar took offense to this, so he went upon the port of Aden, and readied armies on both land and sea, and three army sections marched: a section at sea, and in it were most of the footsoldiers, and with them were al-Azwaad; a section with four hundred horsemen under Shams al-Din Azdamur al-Muzaffari [a formal title follows for this military commander], which followed the coastline alongside their ships; and the third section had the two Sheykhs, Abdallah ibn 'Amru, and Shahwan ibn Mansur al-'Abidi, and these were two hundred horsemen from the horsemen of the Arab nomads, and they followed the Hadramaut route; and the three armies met near Dhofar, and went after Salem, so when they drew near the city, Salem went out to face them, and lined up [his troops], and they met, and the battled resulted in his killing and that of a large number of his army; and this was on Saturday the 27th of the month of Rajab of the year six hundred and seventy eight". 
From this we can conclude that Shahwan ibn Mansur al-'Abidi (i.e., of the 'Abidah tribe of Qahtan) was alive and young enough to lead his Bedouins in battle in the year 1279 AD in support of the king of Yemen. This makes the strain of Dahman Shahwan that is known after Shahwan, the oldest attested Arabian horse strain by far.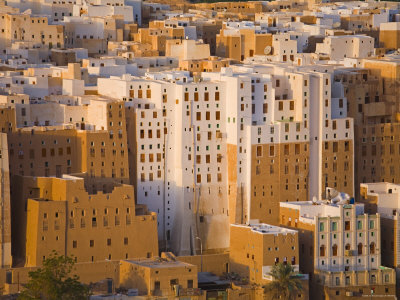 A modern view of the historic city of Shibam in the Yemen Province Hadramaut, which conquered by king Muzaffar aided by Shahwan in 1279 AD.