By Edouard Aldahdah
Posted on December 1st, 2011 in General
I just went to heaven and back. This past weekend I took the family to Craver Farms for a visit with Charles and Jeanne (shamefully, my first in six years), and the horses. We also saw Alice Martin, Nancy Becker, Kirby Drennan and their horses, who are wonderful. I took some pics, but Kirby took the only non-horse picture (below).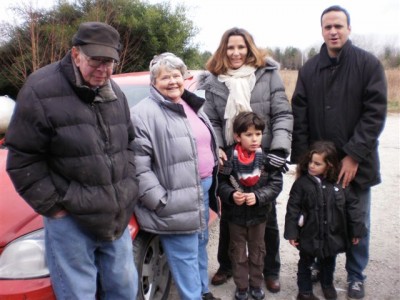 The absolute highlight of the trip, other than seeing my horses and especially the new ones, were the two hours I was able to spend with Charles and Jeanne helping put together the slides projector and watching some video footage of the horses at Craver Farms from 1958 up to 1961. Priceless images, and priceless moments, with Charles and Jeanne commenting on the footage.
I saw a total of 50 minutes of footage of Tripoli and many of the early horses, some of them preceding the Davenport "Second Foundation": Arabesque (Rouf x Koreish by Alcazar); her fillies Byzantia (by Garaff), Tizzy and Josephine and her son Tristram (impressive), all by Tripoli; the wonderful 100% Blunt mare Ringlet Astralis x Rudeyna by Daoud), who unfortunately did not produce there; and of course the Second Foundation mares Dharebah (breathtaking, a desert-type mare) Dharanah, Tara and Dhalana; Antan and her son Sutan (by Subani); Asara (so powerfully built); and the first Second Foundation offspring Aramis, Oberon, Portia and Alaska (all Tripoli x Dhalana); Prince Hal, Sir, Janan Abinoam (all Tripoli x Dharebah); Fairy Queen (Tripoli x Dharanah);  Culpurnia (Tripoli x Tara), etc.  [Just go to the Al Khamsa Roster and look up all these horses if you want].
The icing on the cake was some original video footage which Charles had taken of Gulastra (Astraled x Gulnare) at 30+ years old at Bazey Tankersley's in Washington, DC.  My head has been swirling with images of all these horses ever since.
Watch out, lots of photos coming.