By Edouard Aldahdah
Posted on November 1st, 2010 in Syria
This is a Kuhaylah Hayfiyah at the stud of the late Alaa Din Jabri (Mustafa's uncle), east of Aleppo. I forgot what her name was, but you can easily find her in the first Volume of the Syrian studbook. Her sire was Mahrous, and her dam one of the two bay Kuhaylah Hayifiyah mares daughters of the Saqlawi Marzakani stallion Ghuzayyil (there were two of these back in 1992 when I took that picture, a younger one and an older one). This mare was very pretty and very strongly built at the same time. Certainly one of the best Mahrous daughters.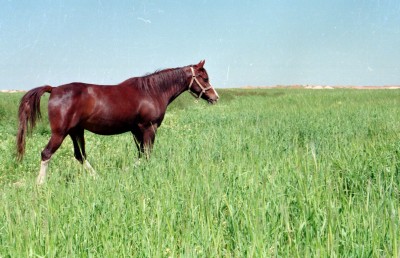 Alaa Din Jabri bred this line for at least four decades, and before that time the line was with Wawi al-Kharfan of the Fad'aan Bedouins. It is said the line is somehow related to the horses of the last of the leader of the Fad'aan Bedouins to live in Syria: Miqhim Ibn Mhayd.
In any case, the strain of Kuhaylan al-Hayfi belongs to the leading Mhayd clan of the Shumaylat section of the Fad'aan Bedouins, as I mentioned earlier on this site, here. This is where the Hayfiyah mare *Reshan came from. She was imported by Homer Davenport to the USA in 1906, and was bred by Ibn Hubayqan of the Shumaylat.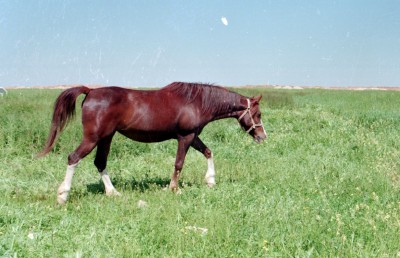 That said, when samples from the two lines were recently compared by the UC Davis lab with the help of Michael Bowling, the mtDNA haplotypes from this line of Alaa Din Jabri's and from that of the *Reshan line did not match. Not sure why. Not sure how it matters, either. Or whether it does at all in this case.