By Edouard Aldahdah
Posted on December 19th, 2008 in France, Syria
Part 1 introduced the young stallion Menjad Maram al-Baida, whose sire and dam were imported from Syria to France. Some people would refer to this horse as a "Straight Syrian". I don't like this phrase, nor any term with "Straight". Others who know more than I do don't seem to like it either. [Incidentally I wonder whether the descendants of the Arabian horses imported to the USA by H. Davenport would qualify. And the Tunisian, Algerian and French horses too. All these folks imported most if not all their horses from Syria].
We had left off with Manjam's maternal great granddam Marwah, a Saqlawiyah Jadaniyah straight from the marbat of Ibn Amud, arguably the most authentic desert-bred marbat of Saqlawi Jadran in the second half of the twentieth century. More about this marbat in a subsequent entry dedicated to this strain.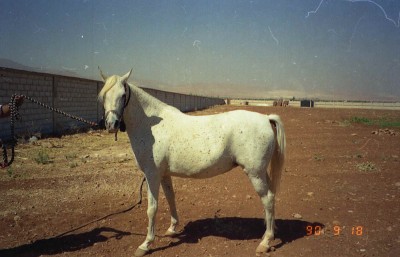 I first saw Marwah  at Basil's in 1990, when I took the (rather poor) picture above. A very small mare (you can tell from the way her handler is holding her bridle in the picture), with a strong girth, high withers, a very short back, a flat croup, a round hindquarter, she conveyed an overall appearance of roundness and sturdiness that was reminiscent of the descriptions I had read of ancient Najd horses. Her head, to which the above photo does not do justice, was characterized by a broad forehead, a small muzzle, exceptionally deep jowls, a dished profile (more so than most desert bred mares of her generation), and above all, huge, shiny, watery eyes with a soft, sweet, generous, almost motherly way of looking at you. Unfortunately, Marwah never produced a mare equal to her. Her chestnut daughter Nisreen by Mobarak was not nearly as good, and her granddaughter Hijab was nowhere even close [Update June 30 2010: that was unnecessarily harsh. I saw other photos of Hijab and she looks very pretty in these]. Her great-grandson Menjad looks like he's reversed that downward trend, and I am awaiting news of his foal crop. Whatever the case, you can't get purer than he is. But blood is not everything, or is it?