By Edouard Aldahdah
Posted on February 13th, 2013 in General
Some time ago, I announced on this blog a series of blog posts on "ten myths about Straight Egyptian pedigrees", which I contended were harder to dispel than misconceptions about other groups of Arabian horses (see here, and the ensuing discussion). I did not plan to start with this one, but a recent side discussion about El Samraa (INS) on this blog prompted me to do it.
So here's the first "myth" in this series:
The 1924 Inshass Stud foundation mare "El Samraa", entry is #13 in the "Inshass Original Herd Book", is listed as sired by a stallion named "Hab El Reah" and out of a mare named "Bint El Sheik". I always thought these were unusual names for horses but did not second guess the information until recently.
It turns out these are not horse names at all, and the explanation is fascinating. Here's why:
In a number of hujaj (original Arabian horse certificates in the Arabic language) dating from the early to the late twentieth century, references are made to individual horses being "from Habt El Reah and Nabt (not Bint) El Sheeh", in Arabic "min habbat al-reeh wa nabata al-sheeh", a phrase which rhymes in Arabic.
Below is one example from the 1939 hujjah of a mare imported to Egypt from the desert by the  Tahawi clan. The hujjah is courtesy of Mohammad Mohammad Uthman Abdallah Saoud al-Tahawi (translation mine, Arabic speakers check against the original scanned here, the reference is on the fifth line and click on the hujjah to enlarge it):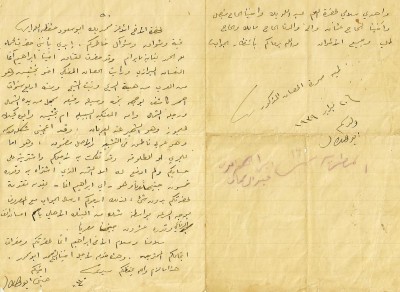 To the honorable and dearest brother Muhammad Bey Abu Sa'ud, may God protect him, 
Greetings, missing you, and asking about you. I start by saying that I reached Hamah in the best of conditions, thank God, and I went to see our brother Ibrahim Agha al-Na'san al-Barazi, and saw the Ma'naqi stallion, the brother of Bakhshish, and he comes from the Arabs, from habt al-reeh and nabt al-sheeh, and his age is four years, light bay, with a star in his face, and a thin blaze, with white on his left frontleg and his left hindleg, and his dam is al-Ma'naqiyah al-Sbayliyah, the dam of Bakhshish, and his sire is Kuhaylan al-'Ajuz who is famous among the Arabs; I liked his looks and conformation, he is Arabian, and could be bred from, and his origin is garanteed, and can be used either for racing or for breeding, so I spoke about him on your behalf, and I bought him for you, and I offered for him the price that he [Barazi] bought him for, which he estimated at 50 Egyptian guineas, and he — Ibrahim Agha, that is — wants to present him to you as a gift, without any thing in return, so please send me your response with the cost of his board as soon as possible, by way of a check from al-Ahli Bank, in the name of Ihsan Effendi al-Rifai, and the amount [of the board] is about twenty Egyptian guineas. Our greetings, and the greetings of the brother Ibrahim Agha to your honored selves, and to your respected sons. And this is a service for the sake of our brother Shaykh Hamad Abu Muhammad. This is the needful and May God protect you, sir. 




Your brother, Husayn Abu Hilal. 




I dedicate my greeting to the honorable uncle Abdallah Bey, and our brother Haj Faysal, and our brother Haj Uthman, and our father Haj Malek, and Haj Talab, and all the brothers. May God protect you. Waiting for your answer. The photo of the aforementioned horse is attached. 




February 20th, 1939.




Your son, 

Abu Hilal
Here is an example of a desert-bred horse with an identified Kuhaylan al-'Ajuz sire and a Ma'naqiyah Sbayliyah dam, who is otherwise being referred to as "from the Arabs, from habt al-reeh and nabt al-sheeh". This reference occurs in a part of the hujjah that is different from the part about his sire and dam. So "from habt al-reeh and nabt al-sheeh" clearly does not refer to the sire and dam of the horse, because: (1) these are already mentioned elsewhere in the hujjah; (2) the way information is normally presented about sires and dam in hujaj is not "from horse X and mare Y" but rather "His/her sire (abuhu) is stallion X and his/her dam (ummuhu) is mare Y; (3) reeh (wind in Arabic) is feminine and as such does not make sense for a stallion's name.
In context, the phrase "from habt al-reeh and nabt al-sheeh" in hujaj like the one above reads like it is one of these Arabic proverbs and expressions which Arabs, Bedouins and townsfolk alike, used as a flowery, poetic way of saying that the horse is desert bred. Similar Bedouin lyrical expressions such as "purer than milk", and "can be mated in the darkest of nights" often found in other hujaj, and similar romantic Western expressions like "a true son of the desert" and "born under a Bedouin tent" come to mind.
Those of you who read Arabic and are readers of Daughters of the Wind and are able to read the hujjah above in the original Arabic will recognize the meaning of the phrase immediately. For those who don't, it roughly means "from the wind that blows and the desert plant that grows" (funny it even rhymes in English). Al-sheeh is a common desert plant from the Artemisia genus (photo below).
To make sure this was a recognized colloquial expression (I had not come across it before, to be honest) and that my reading of the hujjah was accurate, I  Googled the entire phrase "min habbat al-reeh wa nabata al-sheeh" in Arabic, and I found many references to it including this one (in Arabic, sorry) and this one.
[Arabic orthography footnote: This way I was sure that the word "nabat" (to spring, to grow from the ground) was indeed the word written there, as it only slightly differs from the word "bint", the only difference being about were the dots are placed: a dot above the first letter and below the second, and it's NBT (nabat), a dot below the first letter and above the second and it's BNT (bint). Also Googling the phrase is a way of making sure that that no dot was present above the last letter in "sheeh", because a dot above the letter is really the only difference between the H of "sheeh" and the KH of "sheykh". I will try to upload an audio record of myself pronouncing the letters, and the words, so you could see the difference.]
In the context of horses and hujaj, the phrase "from habt al-reeh and nabt al-sheeh" would be a reference to the desert-bred origin of the horse in question, to the desert itself, from where "the wind blows and the desert plant grows", a beautiful and poetic metaphor, from a culture and a language where poetry is the highest form of expression.
The anonymous Egyptian record-keeper at Inshass Stud who transcribed the now lost Arabia hujjah of El Samraa into the Inshass Original Herd Bookis unlikely to have been familiar with this Syrian Arabic colloquial metaphor. What is more, this clerk seemed to have misread it, turning "nabt al-sheeh" into "bint al-sheekh", an error easy to make when the dots that distinguish the Arabic letter N from letter B, and the letter H from letter KH, are too close to each other.
Instead, he took the phrase "from habt al-Rih and nabt al-sheeh"  to mean a reference to El Samraa's sire and dam, and recorded the sire as "Hab El Reah" and the dam as "Bint El Sheik", adding spelling mistakes to his vocabulary mistakes. And generations of Egyptian and Western administrative clerks, stud managers, horse breeders and owners, and researchers, followed suit, and never questioned what these names meant, taking them for names of horses.
Now it might seem unsettling that El Samraa could have lost her virtual sire and dam, but I personally find more comfort in knowing that she is a North Arabian desert bred mare "from habt al-Reeh and nabt al-sheeh".
I found the same reference to "from habt al-reeh and nabt al-sheeh" in a hujjah from the mid-1980s for a Syrian mare registered in Syrian Studbook Volume I. Still working on translating the hujjah and will share it with you soon in a revised version of this article.