By Matthias Oster
Posted on September 21st, 2010 in Egypt
For decades, several different authors (Raswan, Forbis, Schiele in Germany and also Lady Blunt and her daughter Lady Wentworth) have been telling us that the best breeding stock of Arabian horses had left the Arabian peninsula during the 19th century to go to the Egyptian Pashas by either force or negotiation, or as gifts. The stud of Abbas Pasha I was famed for its unrivalled quality of authentic Arabian horses in his time. We even have a report that tells us that some Abbas Pasha horses were brought back to the Bedouin tribes because of their outstanding reputation. One such returning stallion was bought by Von Bruderman (an Austrian) for his government from the Rualla for exportation to Europe and we are told that this particular stallion was even exchanged between the tribes for mating their mares after he had come back from Egypt.
As a result of this and also because of missing information from the Arab countries, the opinion was widespread in the West that nothing of interest was left with the Bedouins, who had already been settled by the second half of the last century (1950-2000), when a greater interest in Arabian horses aroused in the West. And was it not much easier to buy horses in Egypt than in Arabia? So only a few came from Arabia to Europe or America. And not all of those have been accepted by the studbooks as purebreds!
Also financial interests had taken advantage of the information on the superiority of the Egyptian horses going back to Abbas Pasha and the fairy tale stories. And from the very much inhomogenous foundation stock of Egypt a certain type of Arabian emerged after not so many generations of human selection (The same thing happened in Poland or in other Western countries). Even modern genetic findings support this observation: We find more different m-DNA types in Arabians than in most other breeds so that scientists give not more than 200 years for the existence of the Arabian breed (I do not agree but this would lead to a different discussion point). In Arabia the so-called Arabian breed existed and still exists to a certain degree without the uniformity western horse breeders like to have.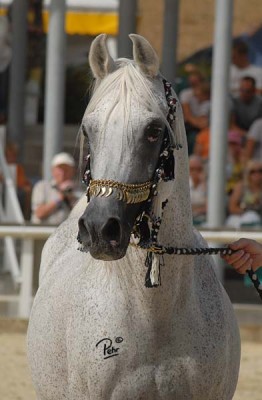 For me there is no difference between asil horses from Egypt or Arabia, but there are still some missing links we cannot fill yet. And not to forget that we have even less information for horses of Saudi "origin" than for many Egyptian horses. It has always been my intention as a breeder of Straight Egyptians to know the origin of my horses with the Bedouins, i.e. the tribes and breeders of the root horses. Because of missing information I refrain from certain lines within the Egyptians, until that gap is filled.
And if I understand all the information of this blog and the books I have read, there has always been such an immense exchange of horses inbetween the tribes not only in one area but all over Arabia that we cannot exclude one section of asil horses from the rest. Facing some genetic deseases and also some infertility in some lines today we need all sources of Asil breeding for the future. Let´s work together and not against each other for the sake of the breed!  The Egyptians horses have always been connected with Arabia and have never been disconnected except maybe in the thoughts of a few.