By Jeannie Lieb
Posted on October 5th, 2015 in General
Edouard asked if I would write a series of posts explaining how I provide optimum nutrition for horses in my care.  What is Optimum Nutrition?  It is about feeding what the horse requires not just in the way of  calories but equally important the major and trace minerals they require in the proportions they require, and the vitamins that are missing from their diet.  That is optimum nutrition.  Sounds like a lot of work right?  Nope!  The learning took time because I was part of the leading edge of owners trying to solve metabolic issues via diet.  The actual implementation is very easy!
I always find case studies with before and after pictures interesting you will be following with the case of my most recently acquired asil Arabian.  But before I do that I will show you some before and after pictures of another asil Arabian to find its way into my care. So you can see what the "restored" horse looks like.
This is the completed case of the tail female *Hadba mare RL Bilquis 2006cm.  RL Bilquis time with me lasted from November 2012 until September 2014when I delivered her to her new home in Ohio to be part of a budding preservation breeding program.
I rescued RL Bilquis in November of 2011 after she'd been badly handled/abused, starved, and put through a stockyard auction where she and the stallion she was with were the only 2 horses that did not end up on the meat buyer trucks. And that was only because they had their registration papers with them. This is what she looked like after getting off the shipper's truck at my place 2 months after she was bought out of the auction.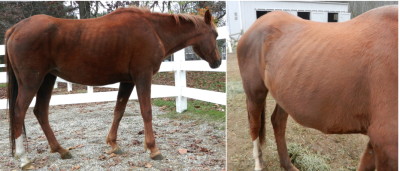 As you can see she is very under weight and her coat is rough. What you can't see is all the bot fly eggs all over her body and her misshapen hooves. ( I won't go into hoof rehabilitation here unless there is a desire for that. I cover that on my Facebook page but can do it here too if there is a demand for it.)  I had the vet out immediately after she arrived to check if she was in foal and she was, approximately 4-5 months along. Not good body condition for a horse in general never mind a pregnant mare.
Fast forward 6 months and this is what she looked like right before she foaled  in May 2013.  Turning her from what you see above to what you see below and having her deliver a healthy filly with no complications is about more than calories. It is about providing those calories along with optimum nutrition for a horse her size, exercise level and pregnant condition.  The second picture was taken right before I took her to Ohio. And what a wonderful mare she developed into after overcoming so much adversity in her short life thus far!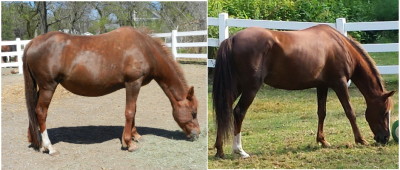 I enjoy sharing my knowledge and even if only one other asil Arabian benefits from these posts they will be worth the effort I put into them.