By Matthias Oster
Posted on February 11th, 2011 in Arabia, Saudi
This stallion was the favorite of my wife Gabriele and I during our visit at the Najd Stud near Al-Kharj in Saudi Arabia: Nabeh, a fleebitten grey stallion 8 years by Haleem (already featured on this blog earlier), from the Ubayyan al-Sufayfi.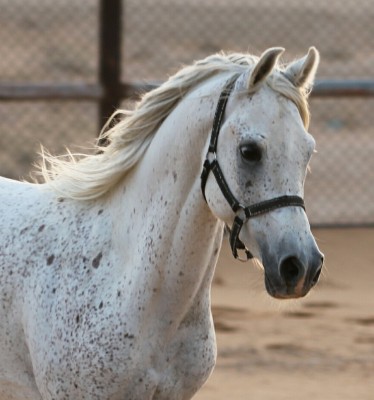 Nabeh was the most beautiful desert-bred we saw on our trip, with small and tippy ears, a pretty face and also special action. He had less cadence and a longer stride trotting. By the way all the stallions at the Najd Stud are ridden daily. They looked like they could make perfect dressage horses.
Of the 300 asil horses in that private stud, about 20 were from the Kuhaylan Krush strain, 20 of the Hamdani Simri strain, 5 of the Suwayti al-Firm strain, 4 of the Kuhaylan al-Musinn strain, 4 of the Shuhayb strain and all the rest of the Ubayyan al-Suyayfi strain.