By Edouard Aldahdah
Posted on November 7th, 2010 in Syria, USA
The desert-bred Saqlawi Jadran stallion Ihsan (Hamdani Simri x Nadya, a Saqlawiyah Jadraniyah) was the second stallion at the Jabri stud in the 1990s. He was mainly used as an outcross to Mahrous daughters. What I liked about him was his large expressive eye, his huge half-moon cheekbone, his nice croup, as well as his good tail carriage. I took this photo in 1990.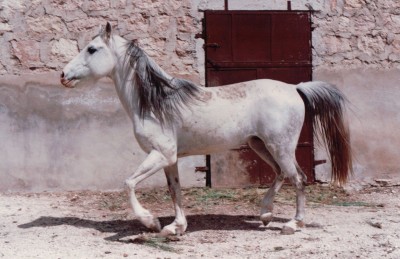 Ihsan traces all the way back to the famous Saqlawi Jadran marbat of Dari al-Mahmoud, the leader of the Zawba' Shammar of Iraq, and a hero of the Iraqi resistance to the British in the 1920s. There are only three Saqlawi Jadran marbat among the Shammar today, and they will be the subject of an entry to come.
The 1922 stallion *King John, who raced in Egypt, and was later imported to the USA, was also a Saqlawi Jadran from Dari al-Mahmoud's marbat, according to his hujjah (featured in the reference book Al Khamsa Arabians II, 1993). A thin asil line to *King John survived in the USA until the 1980s, through his great-grandson Beau Nusik (Nusik x Reshan Azab by Janeo, who was by *King John), but it was eventually lost. *King John (photo below) was an early Hollywood star, featured in a movie as Marlene Dietrich's mount, and providing the model for the white horse which Snow White's Prince Charming rode in the Disney cartoon..