By Edouard Aldahdah
Posted on October 12th, 2009 in Arabia, Syria
Below is one of the first photos I took, at age 12 in 1990 or 1991, with my father's Nikon.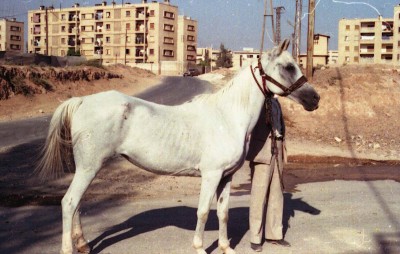 The mare in the picture is Tahirah, then a 25 year old 'Ubayyah Sharrakiyah from the marbat of the Saffaf family of Hama. Hama is an ancient city in central Syria, just west of the Syrian desert, and as such was the main marketplace for the Sba'ah Bedouin tribe, which was famed for its many marabet of 'Ubayyan Sharrak ('Ubayyan al-'Awbali, 'Ubayyan al-Usayli', Ubayyan Ibn 'Alyan which by the way is Queen of Sheba's marbat, 'Ubayyan Ibn Thamdan,'Ubayyan Ibn Duwayhiss, 'Ubayyan Labdah, etc).
The Saffaf family were in close business contact with the Sba'ah Bedouins, from whom they obtained a number of desert-bred mares. One of these mares was Tahirah's maternal grand-dam, a chestnut 'Ubayyah Sharrakiyah, bred by Ku'ayran al-Amsa', a Bedouin of the Rasalin section of the Sba'ah tribe. She was by a famous Ma'naghi Sbayli stallion, then the herd sire for the Rasalin section.  Tahirah's sire was a Kuhaylan al-Krush, also from the Saffaf family, who owned a Krush marbat as well. Her dam's sire was a Hamdani Simri, also from Hama.
Tahirah has many of the features of the quintessential Bedouin mare. Note the deep, round jowl, the bones in the head, the veins under the belly, indicative of a fine skin, the high withers, the arched throat, the ears so sharp despite the old age, the fine muzzle, the well shaped lower lip, the wide nostrils and above all, above all, the black skin around the eyes and the muzzle.  Below is a close up of the same photo so you can see some of these features for yourselves.