By Edouard Aldahdah
Posted on October 23rd, 2008 in Arabia, Egypt, France, Spain, Tunisia, USA
In 1909, a French government commission led by Inspector Quinchez bought 24 desert-bred stallions from the Egyptian racetrack of Sidi Gaber in Alexandria. Of these, 17 went to Algeria (then a part of France), and the remaining 7 were distributed in government studs across mainland France.
The seven were: Dahman, Meenak, Farid, Aslani, Hamdany El Samry, Latif and Maarouf.
The magnificent Dahman, to which this blog paid a tribute some time ago, was no doubt the star of this importation. Dahman's hujja – which I will translate for you soon – tells us that he was bred by the Shammar tribe, from a Dahman sire and a Rabda dam. He stood at Pompadour for twenty-some years, leaving behind many pretty Asil mares like Ninon (picture below), Melinite, Musotte, and Noble Reine, and some excellent stallions, one of which, Minos (x Melisse) was sent to the King of Morocco. Today Minos appears in many modern Moroccan pedigrees.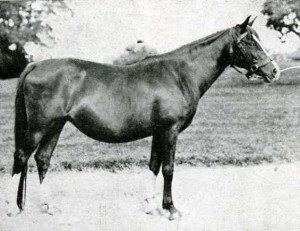 If Dahman was the most striking, Aslani was the French breeders' favorite. He originally came from the tribe of Bani Sakhr, by a Ubayyan and a Kuhaylat al-'Ajuz. Quinchez had to pay the hefty sum of 8,000 Francs to snatch him away from Alexandrian trainer and racehorse owner Michaelides – the same individual who trained and raced Saadun for Lady Anne Blunt. Sadly, by 1914 Aslani had died, leaving behind several broodmares, including Adelaide (a Hamdaniyah tracing to the desert import Zenab, and the great grand-dam of the pretty Asil mare Ablette, mentioned in an earlier post) and the influential Dinah (a Saqlawiyah from Baron Fechtig's Warda's line). 
Latif was not the most striking of the batch, judging from his photo below (thanks Joe Achcar for pointing me to this photo on the website Sportshorse-data.com). His sire appears to have been a Hamdani from the Sba'ah tribe and his dam a Hamdaniyah of the Fad'aan tribe. Latif's claim to fame is his son Denouste (x Djaima), by far the most influential French Arabian stallion of the first half of the XXth century.
Latif also sired *Kola (x Destinee), exported to W.R. Brown of Maynesboro Farm, New Hampshire, and Kaymah (x Keronnelle), exported to Brazil (picture below). *Kola left her mark on US Arabian breeding as the dam of Fath, by Rodan and Kolastra by Gulastra.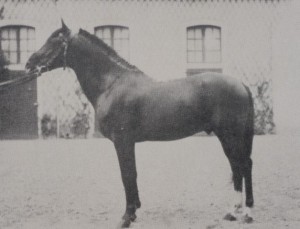 Meenak, by a Ma'naghi out of a Hamdaniyah, also hailed from the Fad'aan tribe and was also a breeders' favorite. His most important offspring was Djerba. Djerba traced to the desert import Merjane, a  Mukhalladiyah, and was noted as the dam of the influential Asil stallion Duc II, sent from France to the Tunisian stud of Sidi Thabet.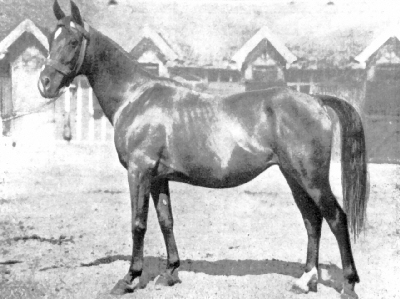 More on the remaining three imports, Farid, Hamdani El Samry and Maarouf, who left important lines in Spain and South America, in a subsequent post.