By Edouard Aldahdah
Posted on September 24th, 2008 in Lebanon, USA
Getting *Layya into the list of Al Khamsa Foundation Horses was not easy. There were a lot of rumors about the Hearst importation from the very beginning. Many people here in the USA, believed that H. Pharaon, who sold most of the horses to Hearst, was a crook, and that the horses were not Asil, but mongrels. These persistent rumors meant that the descendents of the 14 horses of the Hearst importation stayed out of the radar screen of the US purist breeding community for years. For instance, they never made it to Jane Ott's Blue Arabian Horse Catalog (new website!). 
Skepticism about *Layya was not limited to US breeders. Some people in the Middle East wondered how Pharaon could have parted with such a precious mare. Also, people took it for granted that the Khamis family of Rayaq, Lebanon, who bred *Layya, would never sell a mare from their prized Shaykhan strain to Pharaon in the first place. Of course this is contradicted by the fact that George Khamis, who at one time was staying in the USA for health reasons, wrote the pedigree of *Layya in his own handwriting (I will ask if I can share a jpg of that pedigree with you). But it didn't matter. People were still talking fifty years after the importation. 
Despite such skepticism, Al Khamsa accepted *Layya a few years ago, and the current President of Al Khamsa, Jenny Krieg, even owns an Asil *Layya tail female descendent, HS Marayah (Hadaya Nile Anwar x Sherlaila), pictured below.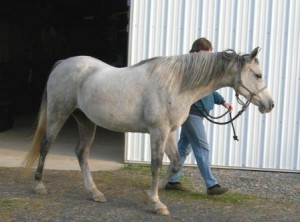 So last year, Michael Bowling and I had the idea to analyze mtDNA samples of a *Layya descendent (we chose HS Marayah) and compare it with mtDNA from mares of the Shaykhan strain from the Khamis stables in Rayaq, Lebanon. The Khamis bred horses of this strain until very recently, and with help from my father, we easily located a Shaykhah mare born at the Khamis stables. A few weeks later, Michael sent me this short message: 
From: michael bowling 
Sent: Thursday, November 01, 2007 10:24 PM
Subject: Re: *Layya mtDNA

HS Marayah does match the Shaykah mare from Lebanon. They both type as
A34 […].

Michael

 
I suppose this doesn't leave much to argue about, does it?