By Edouard Aldahdah
Posted on September 11th, 2008 in Algeria, Egypt, France, Lebanon, Morocco
WARNING: DON'T READ ON UNLESS YOU ARE A PEDIGREE FREAK OR INTEND TO BECOME ONE.
Of the Arabian horses bred in the three North African countries of Algeria, Tunisia and Morocco, the latter is the only one that did not develop its own "brand" of Arabians. Rather, Morocco relied on importations from its two North African neighbors as well as France and Egypt.
Lets look at the pedigree of a typical modern Moroccan-bred Arabian horse: Fata, a chestnut stallion of the Jilfan Dhawi strain imported in utero from Morocco to France in 1976. Fata's dam Tobiha was actually sold by the Moroccan Government stud of Meknes to French breeder jean Deleau, the founder of Haras de la Lizonne, in Western France. 
Fata is by El Sud El Aaly (Nazeer x Lateefa), an Asil stallion born in Egypt and gifted to the King Mohamed V of Morocco (a full brother to SF Ibn Nazeer, by the way). Fata's dam Tobiha is by Burhan (Morafic x Mona by Sid Abouhoum x Moniet el Nefous), another Egyptian Asil, and also a present from Egypt to the Moroccan King.  
Fata's maternal granddam, Mousson is by Murols, a stallion bred at the French stud of Pompadour and imported from France to Morocco. Murols is by Abel, a Denouste son (hmmm…) and out of Musette, a true Asil Arabian (at least by my standards).  Lets give Musette, one of the jewels of Pompadour, a closer look. By the magnificent desert import El Sbaa, out of Musotte, herself by the even more magnificent desert import Dahman out of Mysterieuse, by Enwer (a grey Ma'naghi Sbayli imported to France) out of Mysie, by Benikaled out of Meleke, both desert bred.  The three best desert imports to France (El Sbaa, Dahman, Enwer) all in one mare! I will try and dig her picture out.
Mousson's dam, and Fata's maternal great grand-dam in the tail female is, in case you are still following me, the Moroccan mare Rose Etoile, by the French Arabian stallion Ordizan, also from Pompadour. Ordizan is by Abel (again) out of Danae III, who is herself by Soukne (a desert import, and Ma'naghi by strain) and out of Dourka. Dourka was acquired by Pompadour from a French private stud. Still she traces entirely from old, well authenticated lines, all the way back to the foundation mare Warda, from the horses of baron Fechtig (this guy needs an entry for himself).
Mousson's maternal grand-dam, and Fata's great-great grand-dam (I must have lost you by now) is Koura by Aiglon out of Amana. Aiglon is another French stallion imported to Morocco. He is not from Pompadour, but rather from French private breeders. This is not the same Aiglon as the Egyptian horse, sire of *Exochorda. I know nothing about him and have never seen a picture either.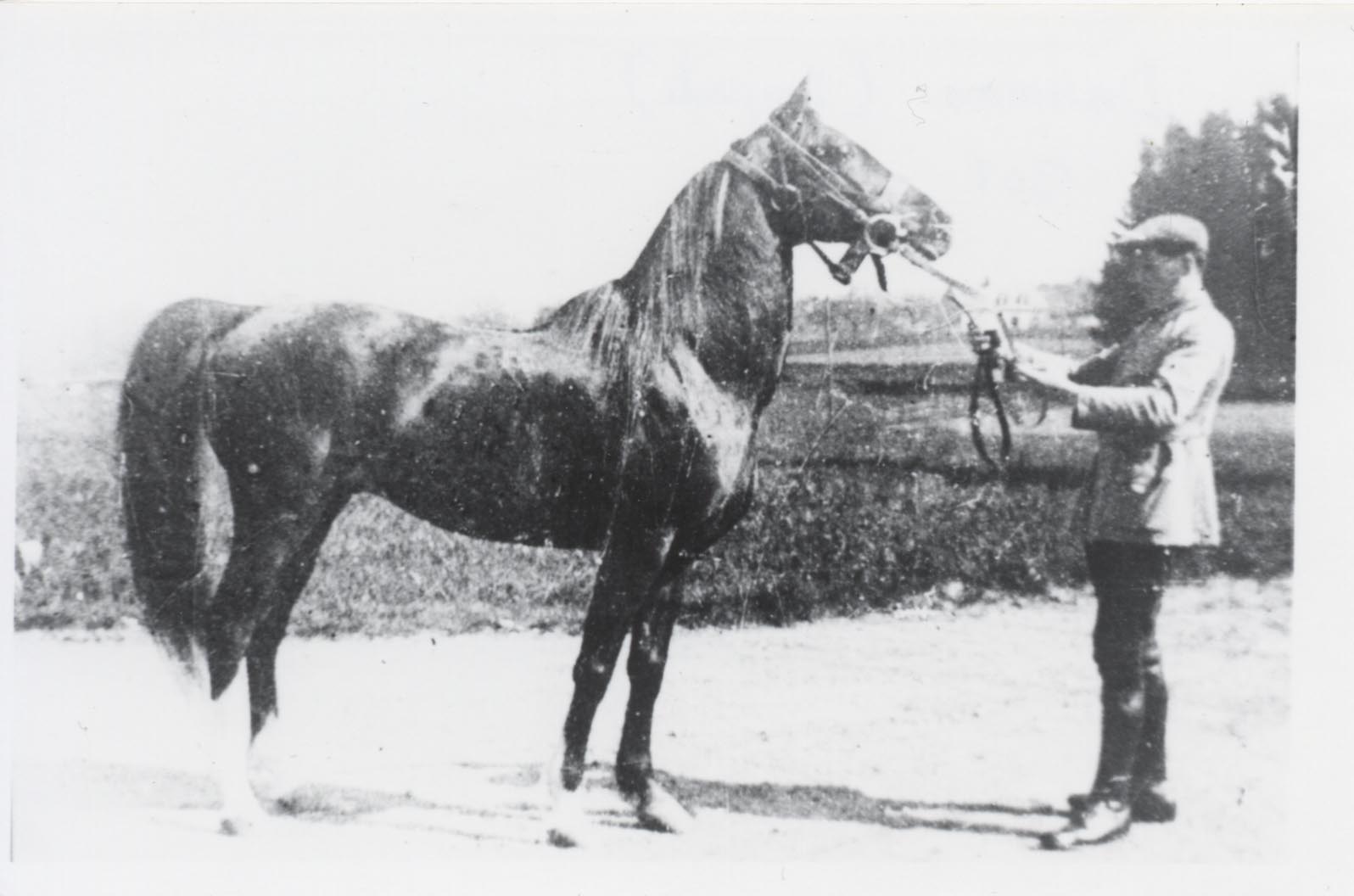 The mare Amana, Fata's g.g.g. grand-dam, is the last horse we'll be looking at. She was imported to Morocco from the stud of Tiaret in Algeria. She traces exclusively to high-quality desert-bred horses:  El Obayyan, (a Ubayyan Sharrak from the Syrian city of Hama) Venture (a Hamdani Simri from Lebanon), Quatre As (a Dahman from the desert), etc. The tail female is that of Wadha, a Jilfat Dhawi from the Fad'aan tribe.
To sum up: Fata is 75% Egyptian Arabian (and Asil), and 21.875 French (of which some is Asil and the rest I don't know), and 3.125 Algerian (Asil, in my opinion). He carries two lines to Abel and one line to the French stallion Aiglon. Subsequent posts will try to focus on these two stallions, after I do some research. Lets see where this will take us.