By Edouard Aldahdah
Posted on August 2nd, 2010 in General
Another major piece of history I fell upon while reading through the Seoud al-Tahawi family website is this hujjah of "Dahman Abdallah Seoud", the sire of the stallions Barakat and Soniour, and the great-grandsire of the three Tahawi mares of Hamdan Stables in Egypt: Fulla, Futna, and Bint Barakat.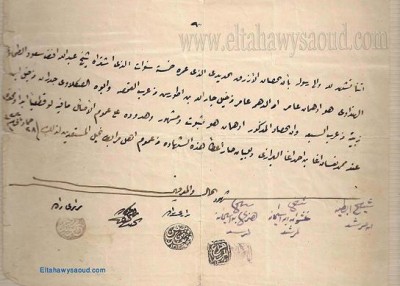 Here is my rough translation, with a more refined translation to follow, as well a transliteration of the Arabic in latin script so that readers of Arabic can double-check the translation:
We testify by God and by his Prophet that the metallic grey horse which is five years of age, and which was bought by Sheykh Abdallah Abu Seoud al-Tahawi al-Hindawi is Dahman 'Amer; his dam is the Dahmah 'Amer from the horses of Jarallah Ibn Tuwayrish of the Arabs of Gomussah, and his sire is the Saqlawi Jadran from the horses of Ibn Zubaynah of the Sba'ah; and that the aforementioned horse, the Dahman, is well authenticated [mathbut], and well known [mashhur], to be mated [hadudah] with all the asil mares, there is not the shade of a doubt about him [ma fihi laww qat'iyah abadan], and he is protected [muhaffadh] at Muhammad Na'san Agha ibn Ahmad Agha al-Barazi, and for the sake of proof, this testimony was made by all the people of the marabet of the horses who were willing to do so.

28 Jumada al-Awwal 1322

Witnesses

Shaykh Beteyen Ibn Mirshid [but no seal]

[Nashwan] Ibn Sulayman Ibn Mirshid [his seal]

Hazza' Ibn Sulayman Ibn Mirshid [his seal]

Owner: Muhammad Na'san Agha al-Barazi [his seal]
and two more currently illegible signatures and a seal
This is the first time I see the signature of Beteyen Ibn Mirshid on a hujjah: he is head of the Gomussah section of the Sba'ah tribe… and the breeder of the Blunt's famous Queen of Sheba.. Muhammad Na'san Agha al-Barazi was the most prominent landlord in Hama, Syria, and a prime breeder of asil horses in his time.. Al-Hindawi means from the Hanadi tribe, the reference to Ibn Zubaynah as being from the Sba'ah tribe as opposed to the Fad'aan is interesting… More later on the implications of this fantastic document.