By Edouard Aldahdah
Posted on July 25th, 2009 in Arabia, Spain, Syria, USA
Clothilde Nollet of Maarena Arabians in France, just sent me this link to the website of a young Syrian lady, Dr. Ghasoub al-Abrash Ghalyoun, who moved to Spain and brought with her an asil mare from Syria, Karboujah (Sa'd x Roudeinah by Mas'huj), and her grey asil son Najm Ya'rob, by the stallion Fawwaz (Ayid x Sit al-Kull). Dr. al-Abrash also has other horses at her Abrash Krush stud near Madrid.
While I have never seen this stallion or his dam, I have very vivid memories of their sires, grandsires, and grand-dams: the stallions Ayid, Fawwaz, Mas'huj, Mahrous, Sa'd, and the mares Jamrah, and Sitt al-Kull populate my teenage memories, when my father and I used to drive from Lebanon to Syria and visit the studfarms of Syrian horse-breeders.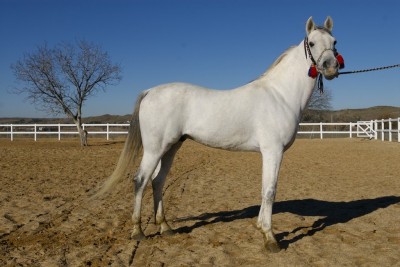 The stallion Najm Yarob is interesting pedigree-wise, because he trace to two completely different branches of the Kuhaylan al-Krush strain. His sire, Fawwaz, comes from an old-established marbat of Kuhaylan al-Krush in the city of Hama in central Syria. This marbat traces a branch of the Krush horse family originating from the Fad'an Bedouin tribe, and know as Krush al-Sane'. The mare *Werdi, a Kuhaylat al-Krush mare imported by Homer Davenport to the USA in 1906 was also bred in the city of Hama, but this is not enough evidence to infer that her and Fawwaz are from the very same marbat (ie same family of owners). The ancient city of Hama was in fact a major marketplace for a number of neighboring Bedouin tribes, some of which, like the Fad'an, bred Kuhaylan al-Krush horses, and several of these horses eventually found their way into the ownership of rich Hama landlords and traders.
Najm Yarob's dam on the other hand, traces to another branch of the Krush strain. This branch hails from the Shammar Bedouin tribe, and is known as Krush al-Baida, "the White Krush".  In fact, Najm Yarob's dam is closely related to the stallion Mokhtar, a black Kuhaylan al-Krush, bred by the Shammar in the Mesopotamian desert, and imported to France in the late 1990s.  Najm Yarob's great grand-dam, Jamrah (Awaad x Doumah) is Mokhtar's full sister. Recently, Mokhtar was featured on this blog in the context of entries of the strain of Krush al-Baida. Maybe I should write an entry on Krush al-Sane' soon.