By Edouard Aldahdah
Posted on May 6th, 2009 in Arabia, Bahrain, Bahrain, USA
In 1953, K.M. Kelly, an American working in Dhahran, Saudi Arabia, received a gift from Shaykh Khalifah bin Muhammad Aal Khalifah, the chief of police in the neighboring emirate of Bahrain (then a British protectorate), and cousin of Bahrain ruler Shaykh Salman ibn Hamad Aal Khalifah, who ruled the country from 1942 to 1961. See the family tree here.
That gift was a chestnut mare, *Sawannah, born in 1948. She was later imported to the USA, and she still asil descendents in the USA and Canada. A September 1975 letter by Danah Aal Khalifa, gives some information about *Sawannah, in response to an inquiry about the mare:
"The mare Sawannah pictured above was identified by Fatis, the old studmaster of H.H. Shaikh Issa bin Salman Al Khalifa, as a Dahmah, belonging to Shaykh Khalifa bin Mohammed Al Khalifa, (chief of Police). Dahmeh was bred by Shaykh Salman, Ruler of Bahrain at the time, out of one of his mares of the Dahman strain, and sired by one of his stud stallions serving at the time."
Whether *Sawannah was a Dahmah Shahwaniyah, a Dahmat Najib, a Dahmat Kunayhir, or a Dahmat Umm Amer is not mentioned. That is where an MtDNA comparison with the lines still in Bahrain today, and maybe even with the Egyptian line of the Blunt mare *Bint el Bahreyn, would come in handy. Any sponsor volunteering?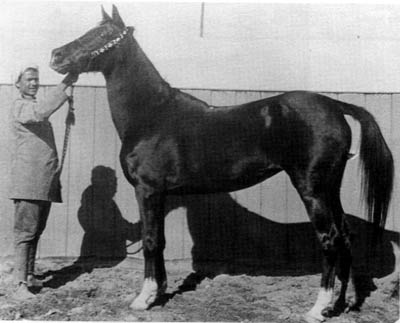 Meanwhile, here is a video of the an unidentified descendant of *Sawannah, most probably from Edie Booth's collection: