By Edouard Aldahdah
Posted on December 12th, 2012 in Egypt
Old Egyptian Arabian horse records have preserved the trace of a Mr. Kasdughli, who owned Arabian horses which he obtained from Lady Anne Blunt during her last years at Sheykh Obeyd near Cairo and from Prince Kemal El Din Hussein of the Egyptian Royal family, and perhaps other sources as well.
Here's on the Dahmah Shahwaniyah mare Durra of LAB in the Al Khamsa Roster (I use it because it's online and easily accessible, in addition to being a precise source):
Durra (BLT), 1917 bm 1.36 RAS; Breeder: Lady Anne Blunt; A Dahmah Shahwaniyah bred at Sheykh Obeyd Stud. Purchased by the Royal Agricultural Society from Mr. Kasdoughli in 1924. Died 1930. NOTES: The above information is from the RAS History, p36. Durra was probably purchased by Mr. Kasdoughli from Prince Kamal al-Din, who purchased the horses (including several pregnant mares) left at Sheykh Obeyd after Lady Anne's death, and re-sold some of them. 
Another reference to him is in the Al Khamsa Roster entry for the horse Aid, to whom Durra was bred to produce Bint Durra, bred by Mr. Kasdughli:
Eid (RAS), 1920 _s RASp-*Bint Bint Durra; Breeder: A Dahman owned by Mr. Kasdughli in Egypt. NOTES: The above information is from the 1932 pedigree for *Bint Bint Durra from the Royal Agricultural Society, certified by its Director, A.E. Branch. 
Here is the name again from the RAS History (EAO Volume I) book, with the alternative spelling Kasdugli without the H:
"15. – DURRA: Dahman Shawania, bought from Mr. Kasdugli on 19-6-1924." At the time of her purchase, Durras was in foal to Eid ca. 1920 stallion. Also, later, under Bint Durra "Sire: Eid, a race-horse belonging to Mr. Kasdugli" .
And here 's the same person in RJ Cadranell's article, "The Blunts and Crabbet Stud", with the spelling Casdugli with a C, as spelled by Judith Wentworth:
"After Lady Anne died, Blunt gave the Public Trustee permission to sell the Sheykh Obeyd horses. Lady Wentworth records that most of them went to Captain Trouncer, acting on behalf of the Egyptian Horsebreeding Commisssion, while the rest went to a Greek by the name of Casdugli." 
Of course, in Egyptian Arabian horses, the line of Bint Durra bred by Mr. Kasdugli is that of Daaldan, Fa Daalim, Daal Aba, Ibn Saafaddan, and other horses prized by breeders of Egyptian horses. I too, have leased two Daaldan grand-daughters.
So, the other day, during my last trip to Cairo, I was on my way for a meeting near Simon Bolivar Square (formerly known as Midan Qasr Al Doubara) in downtown Cairo, when I asked the driver about a nice but run-down villa (photo below) just on the square. "It's the Kasdughli Palace", he said. Being the horse pedigree freak that I am, this rang a bell, or a series of bells (Kasdughli/Casdugli — Cairo — Sheykh Obeyd — Horses), and I was soon on a quest for more.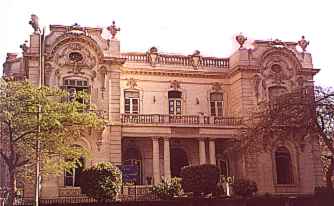 In the beginning was Google. Experimenting with a variety of ways to pronounce the name, I fell upon this under "Casdagli Palace" (click on the link): "Villa Casdagli, now a decaying relic of the past, was built during the first decade of the 20th century by Austrian architect Edward Matasek (1867-1912) reportedly for account of Emanuel Casdagli, a British educated Levantine family dealing in the lucrative Manchester trade."
It turned out the Villa Casdagli, a girl's school that is soon to become Egypt's new Institute of Museology after it is renovated thanks to a grant by USAID, was the seat of the US embassy during WWII.
More interesting are the comments by readers, like this one, but the genealogical tree at the end of the article is wrong:
"My great grandfather Emanuel Casdagli bought the villa at No 1 Midan Kasr el Doubara in the early 1900's, probably about 1911. This villa had been the British Agency and was occupied by Lord Cromer and then Sir Eldon Gorst. The Casdagli family did not build the villa. I quote from my uncle's book. 

"I arrived in Cairo in the early autumn of 1927 and joined my father, who was living more or less permanently in Egypt, and my uncle Demetrius, at the family home at 1 Midan Kasrel Doubara. In the early 1900's this house had been the home of the British High Commissioner Sir Eldon Gorst and when he moved to an even more stately home. The Residency" not very far away my grandfather had been able to buy the house. Kasrel Doubara, as we called it, after the Midan which it faced, with the Khedivah Mothers Palace gates on the opposite side, which was built of large blocks of sand coloured stone and with its large wrought iron gates was a most imposing site." [Note from author of above article (Samir Raafat): Sir Eldon Gorst succeeded Lord Cromer in 1907 and like his predecessor, lived in the British residence where the British Embassy is today. The title of British High Commissioner did not come into effect except after 1914. Heretofore, the title of consul-general was in use.]

In 1931 my grandfather Theodore Casdagli lived there for sometime. I also lived there for a time with my parents and brother. During the Second World War it was let to the U.S. government to use as their embassy. The Casdagli family sold it in 1942.

I have recently returned from a visit to Cairo where we were welcomed into Kasr el Doubara. I remember the house well from my childhood and was sad to see it in such a poor state of repair. I was informed that there are plans to close the school and refurbish the house. Is this so? Naturally the family, now all in the U.K would be most interested to learn of any future plans for the house.

Yours sincerely 
Valissa Gordon (nee Casdagli)
Mr. Emmanuel Casdagli purchased the house in 1909 or 1911 according to different accounts. Part of the Sheykh Obeyd Stud went to the family of same name in 1917, and Durra made her way to the RAS in 1924.  I feel it is fair to assume at this stage that Emmanuel Casdagli/Casdugli or one of his sons is the person who obtained the horses from Lady Anne Blunt's estate or from Prince Kemal El Dine. The proximity of his house to those of Egyptian royals is an additional argument in this regard: from the article of Samir Raafat: "Although Kasr al-Dubara is today mainly an hotel, office and banking district, it was once one of Cairo's top drawer residential quarters and home to several members of the Egyptian royal family who built their palaces there, hence the names Kasr al-Nil, Kasr al-Aali, Kasr al-Dubara, etc. (Kasr meaning palace)".
Next steps: find the Casdagli book mentioned above, and try to learn whether the family has kept archives or old personal correspondence, in which more could perhaps be learnt about its relations with Lady Anne Blunt, the Egyptian royal family, and the world of Arabian horses. And (I am dreaming) a pedigree for Aid as a cherry on the cake.