By Edouard Aldahdah
Posted on August 12th, 2009 in Arabia, France, Syria
Last week, I wrote about the quest of Robert Mauy's friends, Jean-Claude Rajot and Louis Bauduin of France, to regenerate the bloodlines of their Arabian horses with the importation of stallions from the Arabian desert, or North Africa.
Jean-Claude and Louis' quest first took them to Tunisian and Algeria in the late 1980s. They saw many horses at the government studs of Tiaret (Algeria) and Sidi Thabet (Tunisia, where Louis took the photo of the mare below), as well as with private breeders. They also took many photos. However, the horses they liked were either too old or not for sale.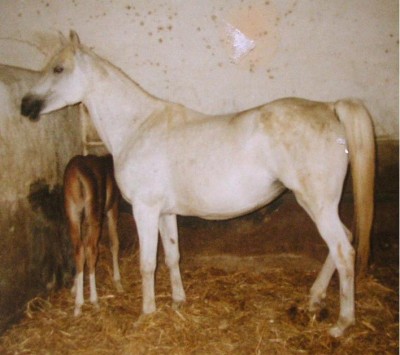 In the 1990s and 200s, as Syria was slowly opening up to the western world, Jean-Claude and Louis undertook several trips to the Syrian desert, the first of which took place with Jens Sannek and Bernd Loewenherz. A great book by Sannek and Loewenherz resulted from this memorable trip. in 2008, Jean-Claude and Louis visited several marabet (Bedouin studs) of the Shammar Bedouins, including Ibn Jlaidan's (Kuhaylan al-'Ajuz, a Najd marbat), Ibn Ghurab's (Hamdani Simri), Ibn 'Ufaytan (Ma'naghi Hadraji), and al-Ghishm (Kuhaylan al-Wati); with an eye towards learning about the desert horse in its natural milieu, and perhaps buying a young stallion or two. They sent me these photos of two Kuhaylan al-Wati stallions at Hussain al-Ghishm's in Upper Mesopotamia.
They finally opted for two stallions bred in the city of Aleppo, in Northern Syria, from desert-bred parents and grandparents. A couple more trips to Syria and a good deal of bureacratic hurdles ensued, until the two stallions (and a young filly that went to a friend of theirs) finally landed in France late last month to the relief of Jean-Claude and all those who helped make this endeavor happen.
They are all one could expect from their breeding, as they hail from two of the most mazbut (well-authenticated, well ascertained) marabet of the Shammar Bedouins, and are expected to make a significant contribution towards re-generating th. Their arrival in France, perpetuates a centuries old tradition of importing desert-bred stallions from the Shammar (cf. Dahman, Enwer, Telmese, etc). More (much more, with lots of details) about their bloodlines later.
The older one, Shahm (al-Aawar x Freihah al-Sughra), a 15 year-old grey 'Ubayyan ibn Sehayyan, is now at Louis' in Nemours, and the younger one, Mahboob Halab (Zaroor al Baray x Soomariah by al-Aawar), a 4 year old grey Shuawyman Sabbah, will be at Jean-Claude's in Tournus. Both are available to outside mares.
Below are two pictures of the near prefect Shahm, one in Aleppo, before his importation, and the other at Louis in France (he's lost a few pounds in the process).